Why choose E-Liquid from The Alchemists Cupboard?
We can think of a few reasons….
We prefer to lead the field, rather than follow…. That means we don't sell generic Vape-Liquid flavours and brands that you could purchase from a number of different suppliers.
Every Vape-Liquid you buy from us, is a "unique own recipe" each batch is hand made by ourselves, here in the UK. We do not sell re-packaged, re-named or re-branded juice that has been made from the usual Chinese concentrates and re-bottled "who knows where", and in "who knows what" conditions.
All our Vape-liquid is made in our own Cleanroom Laboratory.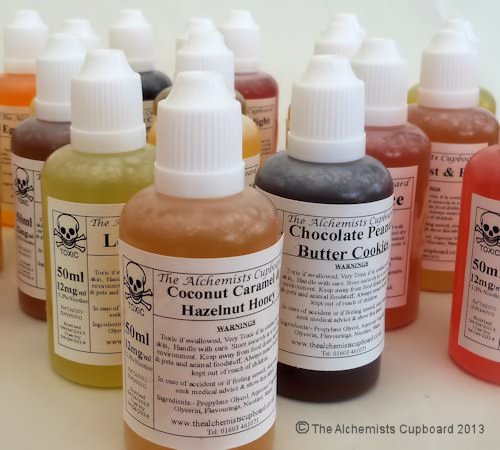 Product quality is paramount; our Vape-Liquids are made in small batches and by hand, with a personal touch in our own Cleanroom Laboratory and from the purest and best quality materials available. We purchase all our ingredients from the UK, or USA, to maintain control and quality.
Service, we strive to make all orders up and post the same day for orders that arrive before 2.30PM, orders that arrive after 2:30PM are usually made up and dispatched the next business day (subject to workload, etc).
What about the price? Well, we think we offer all the above for the same or similar price you would pay for a generic, mass produced product.
You can have a top quality product, made from the best quality ingredients, in a high spec clean-room laboratory and at a generic price. Give our juice a try, taste the difference.
We also think that providing Five Star customer service is part of our success.
Maybe our customers are better placed to tell you about our products, so, If you need any more reasons, take a look at what they say about us "Click Here".