72 Mg/ml Nicotine Liquid
72mg/ml Pharmaceutical Grade Nicotine in VG CAS 54-11-5
The Highest Quality and Strength UK produced Nicotine base Liquid available.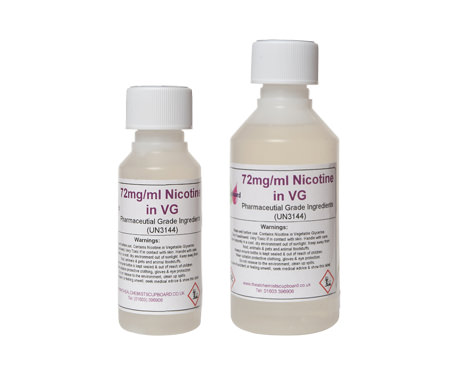 Each Batch is tested and certified and conforms to USP EurPh (7.2%) in USP EurPh Vegetable Glycerin.
Why use 72mg/ml Nicotine Base?
72mg/ml means that it is 33.33% stronger than the normal 54 mg/ml available, you use less, so it will last longer (it will produce 33.33% more e-liquid than 54mg/ml), that equates to more value for money.
50ml of 72mg/ml Nicotine will produce 200ml of e-juice at 18mg strength when mixed with PG/VG and Flavourings!
You can have more flexibility when making / mixing your liquids, so you can produce better PG/VG ratios, the ability to make stronger final strengths becomes available.
Easier to calculate.
Less space/storage required.
The bigger the size, the Better "Value for Money".

 Remember…. Unflavoured Nicotine Base E-liquid is used as a base for mixing your own flavours.
E-liquid should be handled with care.
It is the user's responsibility both to determine safe conditions for use of this product and to assume liability for loss, injury, damage or expense resulting from improper use of this product.

Please look at the Safety Information sheet 
here
 for handling and using Nicotine.
If you are not used to handling nicotine in high concentrations we advise wearing protective clothing when handling and wash your hands after use.
 ALWAYS dilute with PG / VG / Flavourings to your chosen strength. Use a good e-liquid calculator to ensure your calculations are correct, a free calculator (the one we recommend) is available HERE.
Look at a good website for Information on mixing, DIY E-juice making. You will find lots of information available there.
Click the link here….
72mg/ml Nicotine is supplied in a plastic bottle, with appropriate CHIP compliant labelling and Childproof Cap. (additional Warnings and Advice are on the label).
We have additional Safety Information, MSDS and Certificate of Analysis available here We recommend the use of an e-liquid calculator.
We have a DIY Guide to "Making your first E-Liquid" HERE
Please Note

The colour of the Nicotine can vary from batch to batch, it can range from a light straw to a pink or strong orange colour. This is as it comes from the Manufacturers and is a natural variation. We provide it as received from the manufacturers, we do not add anything to it before resale.
The colour variation does not affect or change the quality or strength of the Nicotine solution and meets all quality audits and specifications.