DIY E-Liquid Mixing Starter Kit Gold
DIY Mixing Starter Kit (Gold Level)
 So…. you have decided that you want to have a go at making your own e-liquid, but you are not sure what you need, or what to get.
 We have put together a Gold Level  "DIY Mixing Starter Kit" that has everything we think you will need.
The Gold Level has an Extra 50ml of Nicotine, extra Capella Flavour and extra empty bottles over the Silver Level DIY Mixing Starter Kit… and extra savings!
We have produced a "How to make DIY E-Liquid Guide" HERE
We even help with a few recipes you may like – (see here).
This really is The Best "DIY Mixing Starter Kit" available, in our opinion!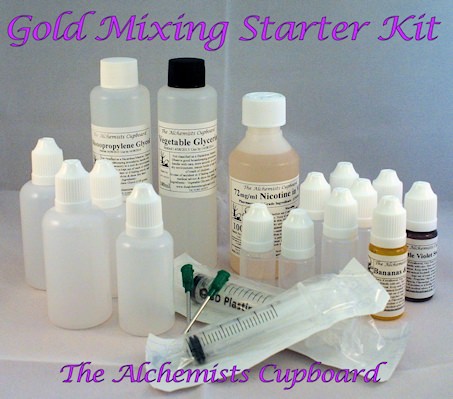 Outstanding Value and Quality.
Each "Gold Level DIY Mixing Starter Kit" contains the following:-
1 x 100ml of 72mg/ml Nicotine Base in VG
1 x 100ml Propylene Glycol (PG)
1 x 100ml Aqueous Vegetable Glycerin (VG)
2 x 10ml Capella Flavour Concentrate (you choose the flavours)
1 syringe pack containing a 10ml & 5ml syringe & 2 x 14g needles
2 x 50ml Empty Dripper Bottle
2 x 30ml Empty Dripper Bottle
5 x 10ml Empty Dripper Bottle
2 X 5ml Empty Dripper Bottle
This would normally cost in excess of £40 if purchased as separate items.
Exceptional Value at just… £33.99


Start saving money, and creating your own flavoured e-liquids.
If you want to make a couple of different flavours…. No problem – Additional Capella Flavourings are Available Here
Please review the Safety Information, MSDS, Nicotine Information, etc HERE
Aqueous Vegetable Glycerine means that the VG has already been pre-diluted to the correct viscosity with pure EP Pharmaceutical water (laboratory grade) – so there is no need to buy additional "thining" dilutants.
(As of 25/4/2016)
Now included in every Alchemists Cupboard DIY mixing kit..
A full comprehensive  guide…
on how to mix your very own E-Liquid!
If you have ever considered Making your own E-Liquid,
But have been slightly confused by it all…
Or due to the volume of juice you now use and the imposing  regulations surrounding the bottle size..
You wish to make your own…
This step by step guide will simplify things for you & allow you to make your very own E-liquids.
A cost effective Vape and a hobby to boot.
Why pay premium prices for your favourite juice…
When you can make it to near identical,
for a fraction of the cost!