For DIY Home Mixing
This is an E-Liquid Flavour Concentrate, designed to replicate our original "Bootifully Berry" flavour, when mixed with the users desired ratio of VG/PG and nicbase (if required).
We would suggest between 10% and 25% as a guide percentage to use, but strength of flavour is always at the users preference.
All Alchemists Cupboard Deluxe Concentrates are PG based and intended for the home user.
Please read the mixing guide available here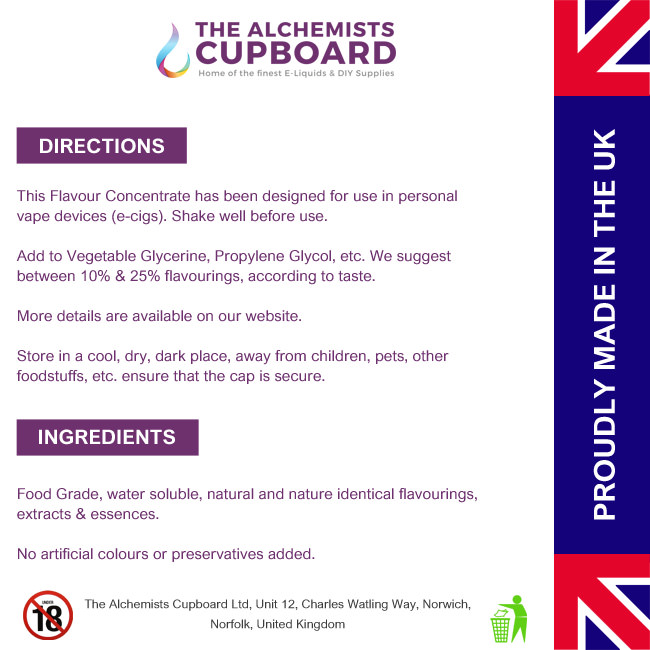 Bootifully Berry
We are very pleased with this one!!!
The Alchemists Assistant has done it again…. This is one of his best juices yet.


A delightful and refreshing combination of many mixed berries including:- Strawberries, Blackberries, Raspberries, Cranberries, Blueberries, Blackcurrant & Redcurrant, with a dash of Pomegranate to blend them all together and add just a touch of sweetness to the more tart berries.
A true flavour explosion.
This liquid is very nicely balanced, with a good amount of Vapour, leaving a flavour in the mouth that is just superb.
Once you have tried this one we are sure you will be calling out for more, more, more!
As we are based in Norfolk we decided to call this
"Bootifully Berry" as our testers reported it Truly Bootiful!
(For those that don't know – Bootiful is a Norfolk word)