For DIY Home Mixing
This is a Flavour Concentrate, designed to replicate our original "Rhubarb Crumble & Custard" flavour, when mixed with the users desired ratio of VG/PG and nicbase (if required).
We would suggest between 10% and 25% as a guide percentage to use, but strength of flavour is always at the users preference.
All Alchemists Cupboard Deluxe Concentrates are PG based and intended for the home user.
Please read the mixing guide available here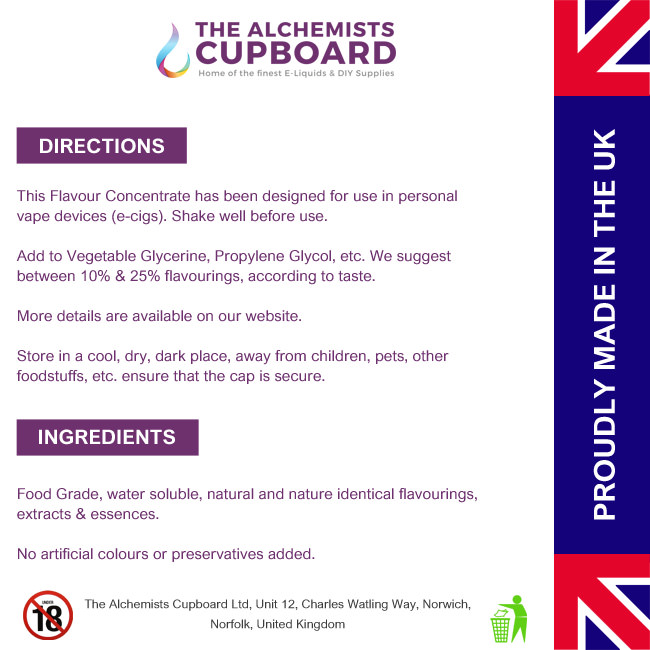 Rhubarb Crumble & Custard
What can we say about this lovely balanced E-Liquid?
Rhubarb Crumble & Custard has been a long time in the making… It has taken a lot of trial and development, to obtain the vape and flavour hit that The Alchemist wanted.
Smooth but rich, tart but sweet, fruity yet mellow, with a rich creamy custard but light enough to not overpower the fruit, and topped by a perfect hint of light crumbly biscuit…. The combination of flavours will caress and tantalise your taste buds.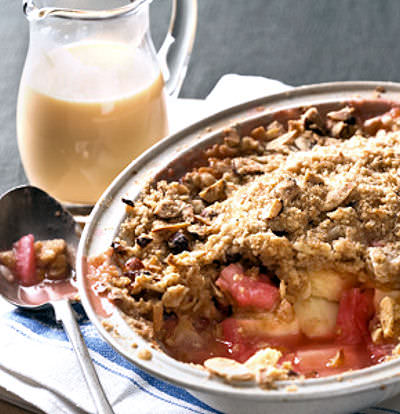 We are not going to try and describe the inhale / exhale experience…. It is a complex mix so they change at different times for different people!
Treat yourself to a real taste of the past, Rhubarb Crumble & Custard just like mum used to make…. A classic British Dessert, just waiting to be re-discovered.
Please allow at least 7 days for this Liquid to steep and develop (14 days is even better), it will reward you for the wait with a depth of flavour that you can only dream about, and you will then understand why it has become one of our Best Sellers!
Go "Old School"… Try Some Today !