Rosy Apple E-Liquid
This product is supplied as 0mg
(this means that it contains no nicotine)
 This is a flavour match for the sweet shop flavour just like the hard boiled Rosy Apple sweets… the small green, red and yellow hard candy balls with an Apple fruity flavour.
Described by our testers as very moreish, Sweet & Juicy with a little underlying tang giving lots of flavour… This E-Liquid is made with pure natural essences, and really is a delicious taste of autumns best fruits made into a sweet type E-Liquid.
A light but rich, fruity all day vape, that we are sure will quickly become one of our best sellers… When we put it out for test everyone said "WOW", why don't you give it a try and see why!
A 50PG/50VG E-Liquid, that produces lots of vapour and lots of apple flavour that remains in the mouth after the exhale.
The Alchemist can honestly say this can easily be an "all day vape"… as he vaped it constantly for 10 days towards the end of the testing period (and still sometimes has it as a daily vape now)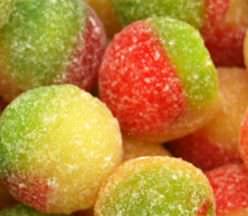 Exceptional !
STOP PRESS!

If you fancy this in a different strength, more VG / PG, etc…
This is also available as a DIY "Deluxe Concentrate"
If you require nicotine, this will be added in the form of our compliant 100% VG based, 18mg 'Nicotine Shot' upon adding the desired bottle to your shopping cart.
There you will have the option to add multiple 'Nicotine Shots' to suit your desired level. This will be supplied separately and will need adding to your 0mg (Nicotine Free) Liquids BY YOU.
Upon check-out, you will also be presented with an option of an additional empty bottle to house all liquids. Upon combining liquids & to ensure all components are sufficiently bonded Shake vigorously for 5-10 min (thoroughly) & leave to stand for 24hours before use. To see what combinations and strengths are required please see table below:
1 x 10ml 18mg Nicotine Shot + 50ml of 0mg Vape Liquid = 60ml @ 3mg/ml
2 x 10ml 18mg Nicotine Shot + 40ml of 0mg Vape Liquid = 60ml @ 6mg/ml
2 x 10ml 18mg Nicotine Shots + 100ml of 0mg Vape Liquid = 120ml @ 3mg/ml
4 x 10ml 18mg Nicotine Shots + 80ml of 0mg Vape Liquid = 120ml @ 6mg/ml
Higher strengths are achievable but this will impair the taste more so, due to diluting the liquids. Our liquids have be re-designed to incorporate the changes above.
To achieve a 9mg… equal parts of Vape Liquid and 18mg Nicotine shot would be needed.