The Home of the finest UK's E-Liquids & DIY Supplies.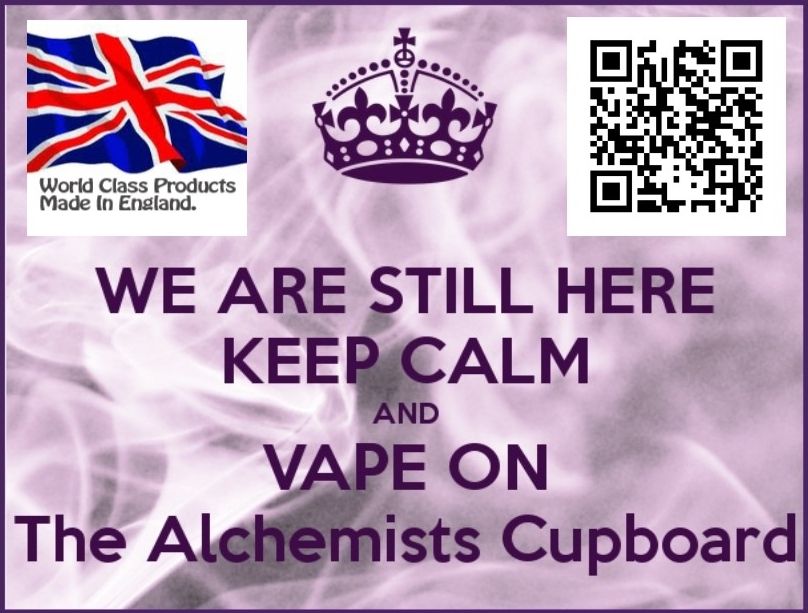 We are currently having a STUNNING new website designed and built.
The new website will be fully compliant and fully optimised for mobile viewing.
It will have lots of new features, including a loyalty discount programme.
Stick with us.... It wont be long !
Meanwhile, please carry on using our current website as normal...
See the latest News Here

Each liquid has been crafted by the Alchemist himself, using the finest ingredients, sourced for their flavour, strength, consistency and purity, they have been blended to secret recipes, known only by the Alchemist and his assistants.

The Alchemist takes immense pride in making bespoke flavoured E-Liquids that will satisfy and fulfil your expectations.

Every batch is made by hand, in our own Cleanroom Laboratory, each bottle is a magical concoction of familiar and defined flavours.

See what the Press say about us... HERE

Try some today, and taste the difference....

If you don't believe how good they are....

Take a look at the customer reviews....

There are a couple of hundred of our latest ones HERE
We are also members of:-


We offer three sizes 10ml, 30ml and 50ml, the more you order of one flavour, the cheaper the price per ml.

For example, our Fruits, Sweets, Desert Vapes, etc, are priced at:-
10ml @ £3.83 +VAT = £4.59
30ml @ £11.23 + VAT = £13.47
50ml @ £18.43 + VAT = £22.11

We will price as above, but reserve the right to supply in multiples of 10ml sizes (if we run short of larger sized bottles, postage type selected, etc).

---
Hardware is not our market, but we stock a few bits and bobs, EVOD's, CE4's, Starter Kits, Batteries, etc...
Click Here
This is a web run business, we therefore can not accept personal visitors.


Please do not enter or use this site if you are under 18
Company Registration No: 8952017
VAT No: GB175898931
VAT Invoices supplied for every order

---