For DIY Home Mixing
This is an E-Liquid Flavour Concentrate, designed to replicate our original "Lime Cheesecake" flavour, when mixed with the users desired ratio of VG/PG and nicbase (if required).
We would suggest between 10% and 25% as a guide percentage to use, but strength of flavour is always at the users preference.
All Alchemists Cupboard Deluxe Concentrates are PG based and intended for the home user.
Please read the mixing guide available here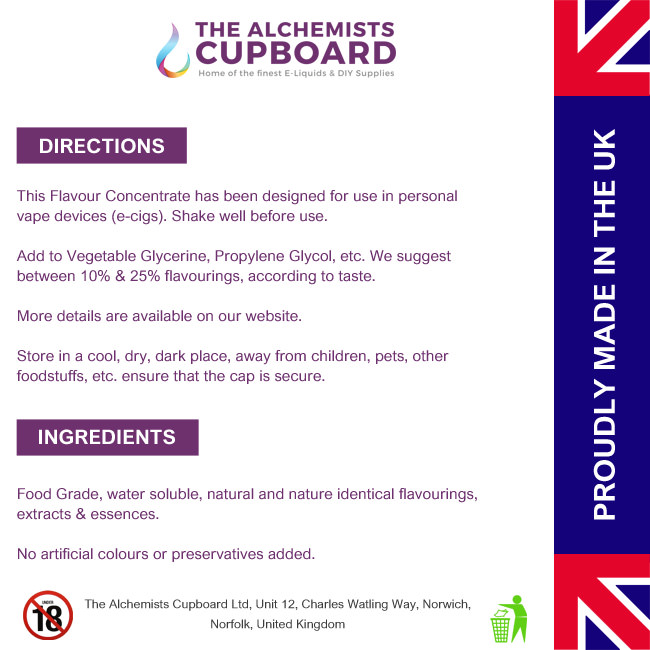 The Alchemists take on another fantastic dessert.
We all love a good cheesecake, (well most of us do)…. and this is no exception. Loads of deep lime flavour, but not too sharp, perfectly blended with a creamy biscuit cheesecake base.
We extended our trials of this one, using about 100 Vapers (at Vapefest) as testers to taste it blind…. Everyone, without exception loved it so we have decided to release it.
One that just has to be tried.
 This E-Liquid has been created to give a good thick vapor production and a nice flavour in the mouth and after exhale.
 This liquid deepens and develops even more flavour over time, its good to go after just 5 days steeping, but will develop more if put away to steep in a nice warm place for a few more days, this is the best way get the deepest flavour from it….Go on… Go on… Go on…. You know you want to!