For DIY Home Mixing
 This is an E-Liquid Flavour Concentrate, designed to replicate our original "Vanilla Fudge" flavour, when mixed with the users desired ratio of VG/PG and nicbase (if required).
We would suggest between 10% and 25% as a guide percentage to use, but strength of flavour is always at the users preference.
All Alchemists Cupboard Deluxe Concentrates are PG based and intended for the home user.
Please read the mixing guide available here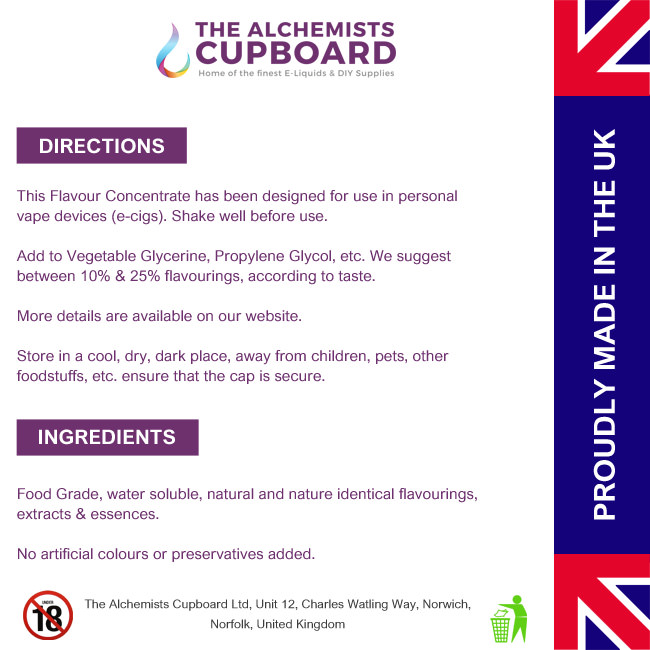 Vanilla Fudge
 There are some classic combinations that are just right, this is one of them!
A beautiful rich Caramel Fudge mixed with the best Vanilla combines perfectly to make this a special scrumptious treat.
A sophisticated and decedent treat, this is one you won't want to share, so find a nice quiet place, sit back and enjoy this wickedly addictive Vanilla Fudge in a perfect vape -enjoy.
You could happily vape this one all day if you wanted! We think one of our testers comments summed it up when they reported back :-
"It is just so creamy and Fudgelicious"
We agree!
This E-Liquid produces a good vapour and rich lingering flavours of Vanilla and Fudge, even after the exhale.
This juice needs at least 7 days to steep to reach it's best (we leave it at least 14 days), but will reward you for waiting with a very nice smooth vape.